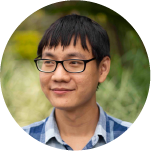 Wildlife Biologist
Mastermark Pte Ltd
B.Sc. Env. Biology (Hons), Singapore
Bernard is the Principal Wildlife Biologist for Singapore's Seletar Airport and the Republic of Singapore Air Force(RSAF).  He has performed numerous biodiversity surveys, Wildlife Hazard Management Plans, and Wildlife Hazard Assessments for international airports across South East Asia. 
Bernard graduated with a Bachelor of Science(Honours) in Life Sciences from the National University of Singapore.  He also heads Mastermark's Research and Development section, and has successfully filed 8 patents and trademarks with the Intellectual Property Office of Singapore(IPOS) for the firm.  He is a joint-developer for Mastermark's pioneering Wildlife Aerodrome 360 programme for civilian and military airports.  Bernard is also the primary coordinator for Embry Riddle Aeronautical University's wildlife management and operations courses.
AIRPORT WILDLIFE HAZARD
TRAINING COURSES
Wildlife Management at airports is essential to maintain an adequate level of safety for aircraft operations. Our Management and Operations courses are designed in accordance to recommendations from ICAO Annex 14 and Part 3 of Document 9137, using case studies of best practices from around the world, leveraging on years of practical experience from Singapore's Aerodrome Wildlife Specialist, Mastermark.
Both course types that we offer here are under the ICAO TRAINAIR PLUS programme to provide a complete top to bottom coverage of the critical components involved in a Wildlife Hazard Management Programme, from planning to execution. Our courses are tailored to the needs of each airport and are applicable both to management level and to groundwork operatives.