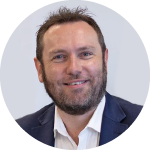 CEO
Singapore Aero Engine Services Pte Ltd (SAESL)
Simon has been CEO of SAESL, a Joint Venture between SIAEC and Rolls-Royce since September 2019. With a team of c1,650 people, SAESL is the world's largest RR Trent jet engine overhaul and repair centre, capable of over 300 shop visits per year.
Prior to joining SAESL, Simon worked for Rolls-Royce for 19 years in its aerospace and marine businesses; most recently as SVP – Overhaul Services accountable for the development and execution of the Civil Aerospace overhaul network and Director of Assembly and Test leading all new Trent engine build and MRO activity across three sites in Derby and London Heathrow.
A physicist by training, he spent his early career in supply chain and manufacturing operations roles, spending 3 years in SE Asia between 2004-07 setting up new supply chain capabilities Taiwan, South Korea, Malaysia and India. Between 2011-2015 Simon led new facility construction and business strategy for RR's Marine business, working extensively across the Nordics, Brazil and Asia.
Simon lives in Singapore with his wife and son, plays average but enthusiastic tennis and is looking forward to rediscovering his love of scuba diving as we start to be able to travel again!
AIRPORT WILDLIFE HAZARD
TRAINING COURSES
Wildlife Management at airports is essential to maintain an adequate level of safety for aircraft operations. Our Management and Operations courses are designed in accordance to recommendations from ICAO Annex 14 and Part 3 of Document 9137, using case studies of best practices from around the world, leveraging on years of practical experience from Singapore's Aerodrome Wildlife Specialist, Mastermark.
Both course types that we offer here are under the ICAO TRAINAIR PLUS programme to provide a complete top to bottom coverage of the critical components involved in a Wildlife Hazard Management Programme, from planning to execution. Our courses are tailored to the needs of each airport and are applicable both to management level and to groundwork operatives.